2024 Honda HR-V vs. Kia Seltos vs Toyota Corolla Cross

When shopping for a subcompact SUV, it's only natural that the Honda HR-V would be at the top of your list. Honda's excellent reputation for quality, built on decades of hugely successful small vehicles, makes it a popular choice. But competition is fierce in this segment, and the HR-V does have its competitors. To help sort through the segment and what other manufacturers have to offer, we together this guide.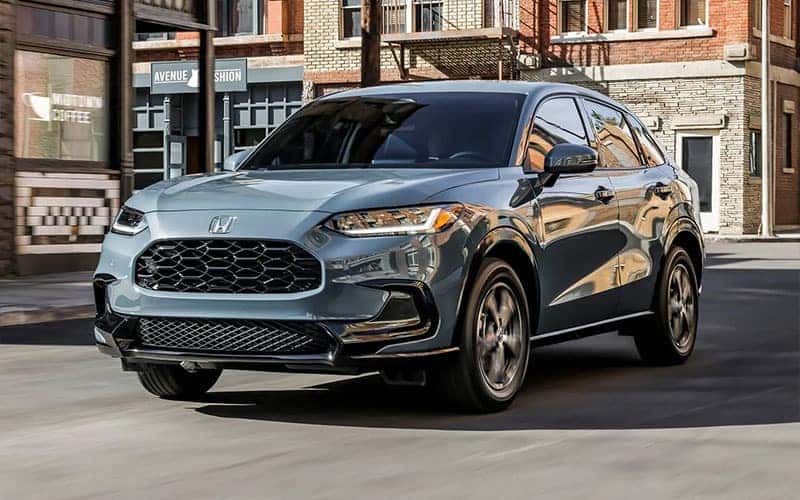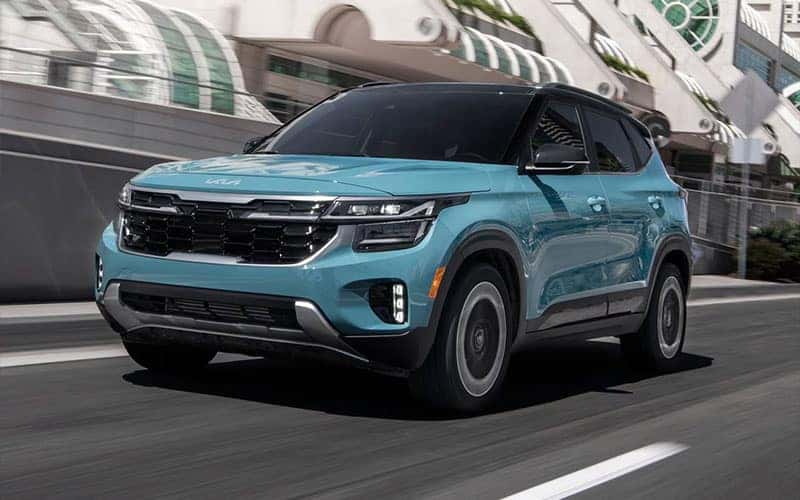 | | | |
| --- | --- | --- |
| 2024 Honda HR-V LX | VS | 2024 Kia Seltos LX |
| $24,100 ✓ | MSRP (excluding destination charges) | $24,390 |
| 158 HP / 138 LB-FT TQ ✓ | Horsepower / Torque | 146 HP / 132 LB-FT TQ |
| Multi-link ✓ | Rear Suspension | Torsion beam |
| 12.3 inches / 12.2 inches ✓ | Brakes (front / rear) | 11 inches / 12.3 inches |
| Available ✓ | Wireless Android Auto / Apple CarPlay | Not Available |
| Standard ✓ | Active Noise Cancelation | Not available |
| Standard ✓ | LED Headlights | Optional |
| Standard ✓ | Adaptive Cruise Control | Optional |
| Standard ✓ | Traffic Jam Assist | Optional |
| Standard ✓ | Push-Button Start | Optional |
First up against the HR-V is the Kia Seltos. The two are very similarly sized, and both are powered by a 2-liter engine mated to a CVT. Looking at the chart, we can see that the Kia is a bit more expensive, and a bit less powerful. Neither of these are huge differences, but as we go on, you'll notice that charging a bit more and offering a bit less becomes something of a theme for the Kia. The HR-V has a sophisticated multi-link rear suspension setup that gives precise control for better handling. The Seltos, on the other hand, has a torsion beam setup. This is a compact setup that keeps manufacturing costs low, but comes at the cost of poor handling. Likewise, the Honda has noticeably bigger brakes, for improved stopping power.
In base form, both the HR-V and Seltos have wired-only setups for Android Auto and Apple CarPlay. The difference is that you have the option to move up to a wireless setup in the Honda, but not the Kia. The HR-V also boasts a much quieter and more refined cabin, thanks to standard active noise cancelation, which isn't even available as an option on the Seltos. LED headlights, adaptive cruise control, and Traffic Jam Assist all come standard on the HR-V, but cost extra on the Seltos. Lastly, the Honda comes with a standard push-button starter, which the Kia requires you to move up to a higher trim for this. Some people might not mind the old key system, but given Kia's recent history with these systems, and how easy they made stealing the cars, this might be something to consider.
Honda HR-V VS Toyota Corolla Cross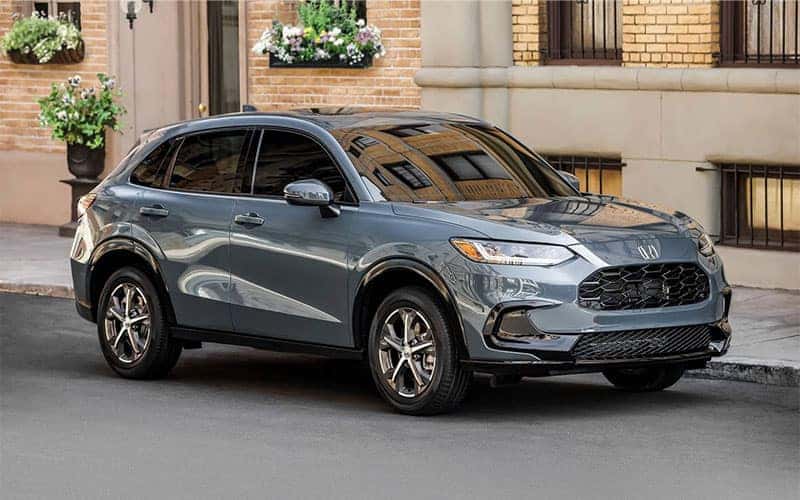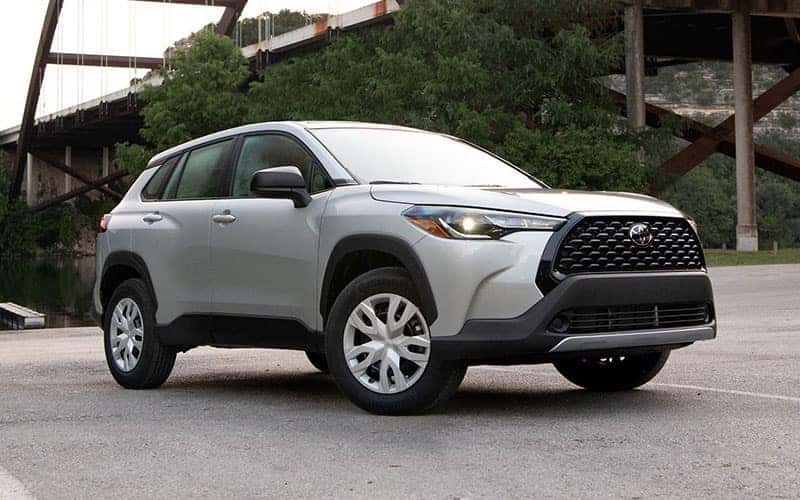 | | | |
| --- | --- | --- |
| 2024 Honda HR-V EX-L | VS | 2023 Toyota Corolla Cross LE |
| $27,650 | MSRP (excluding destination charges) | $25,940 |
| 37.7 inches ✓ | Back Seat Legroom | 32 inches |
| 9 inches ✓ | Infotainment Touchscreen Size | 8 inches |
| 8 ✓ | Speakers | 6 |
| Leather ✓ | Seat Material | Cloth |
| Power adjustable ✓ | Driver's Seat | Manually adjustable |
| Digital, customizable ✓ | Gauges | Analog |
| Multi-angle ✓ | Backup Camera | Single-angle |
| Standard ✓ | Traffic Jam Assist | Not Available |
| Standard ✓ | Ambient Lighting | Requires Higher Trim |
Next up against the HR-V is a relatively new vehicle from an old rival company, the Toyota Corolla Cross. The starting price on the Corolla Cross is a bit higher than the HR-V, so we're using a higher trim for the comparison. The first thing you'll probably spot on the chart is the difference in the size of the back seat. The HR-V offers enough space in the back for adults, but with only 32 inches of rear legroom in the Corolla Cross, they had better be some short adults. The adults in the HR-V will also be sitting on leather seats, unlike the cloth in the Toyota, and even though the driver wouldn't need to move up to make room for backseat passengers, the driver's seat is power-adjustable, whereas it isn't in the Corolla Cross.
You get a bigger infotainment screen in the HR-V EX-L, as well as more speakers. You can spend the money to upgrade the stereo in the Corolla Cross to get more speakers, but the screen will remain the same size even if you do. Speaking of screens, the gauge cluster in the Honda is fully digital and customizable, letting you pick the layout that is most useful for you. The analog gauges in the Corolla Cross offer no such customization. It's easier to maneuver in the HR-R, thanks to a multi-angle backup camera. And Traffic Jam Assist helps to cut down on driver fatigue. Lastly, ambient lighting adds to the high-end feel of the HR-V, but is a feature that requires you to move up to a higher trim to have in the Corolla Cross.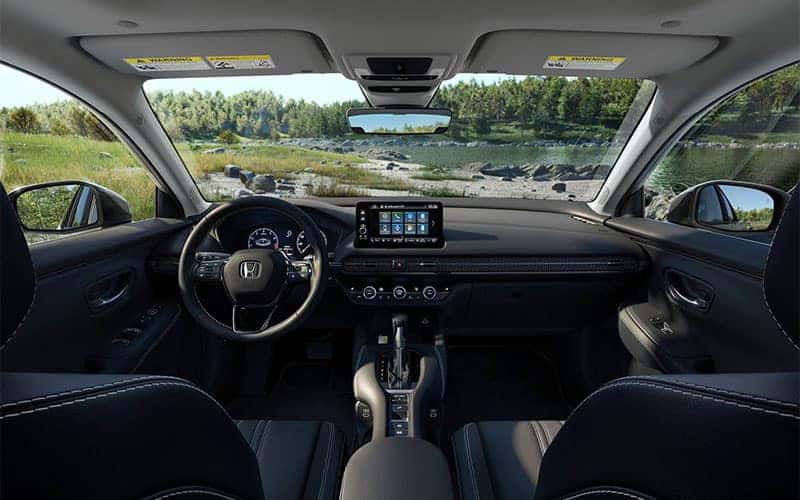 Winner – Honda HR-V
The Honda HR-V is a clear winner when you look at the value for money. Some of that comes from having more speakers, or more driver's aids, and some comes from the more intangible feel of superior handing, and a quiet cabin filled with soft ambient lighting. The HR-V offers a number of advantages, and in a wide variety of areas. Honda knew that, to make a vehicle that truly offers the best value for money, it has to be well-rounded. And that is exactly what you get with the HR-V. Come see for yourself what makes this small SUV such a great deal at Germain Honda of College Hills.